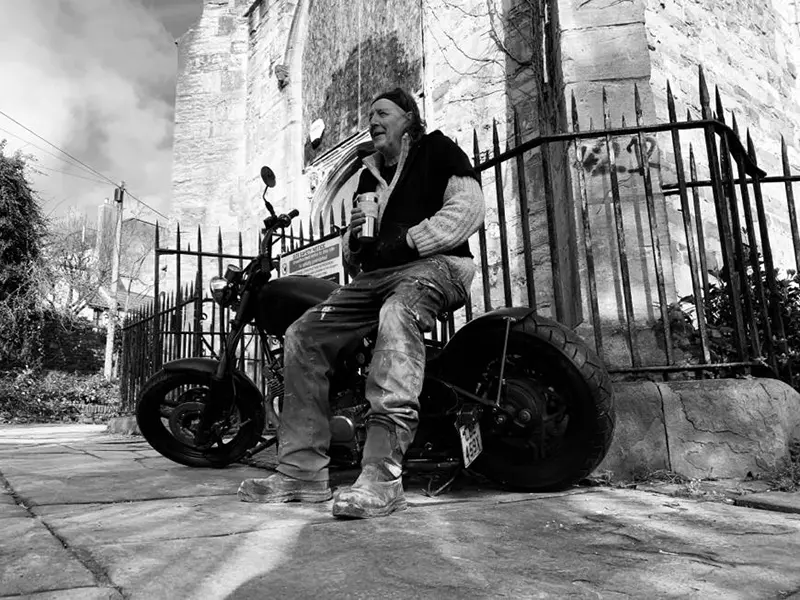 If ever an artist had a story to tell, Andrew Burns Colwill's life would fill 10,000 pages.
Biography
His works offer a skilled and sometimes shocking reflection of us and our modern society. Executed in a classical motif with a refined palate and delicate brush strokes these works cast a mirror on our own lives.
If ever an artist had a story to tell Andrew Burns Colwill's life would fill 10,000 pages, now he's finally had time to reflect on what has been a successful but troubling life as an artist. Born on a leafy street in centre of Clifton, Bristol, he was unaware of how addiction and friends were soon to play an integral role in the twisting of his life ahead.
A full insight of this artists life could have been viewed through the hundreds if not thousands of pieces of artwork he has spent his life creating, if indeed the artist had had the foresight to catalogue just a tenth of his work. On the surface his subject matters have been executed with a raw precision not often seen due to the technical nature of painting directly onto the artists preferred medium of untreated canvas. In the early days this technique was thrust upon him, unable to afford the materials that the majority of other painters were using.
Andrew skillfully developed his technique, utilising materials such as curtain lining that he stretched over hand made frames and household paints which have now become his preferred tools. Unbeknown to the artist his technique 'soak stain' showcased by artists such as Helen Frankenthaler, Jackson Pollok & Morris Louis had it's feet firmly embedded in the world of Abstract paintings, Andrew has unwittingly taken this generally imprecise technique and turned it on it's head creating contrast layers of subtle composition with skillfully fine detailed work.
Andrew's childhood culminated in leaving school unqualified His memories of being left to draw and paint at the back of his classes just to keep him under control were to have an obvious impact on the rest of his life. The talent he was cultivating led him to jumping from job to job, either painting scenic artwork for the BBC, painting backdrops for theatre companies and painting murals around Bristol. Such was the confidence within this young man it would be no surprise that as the artist travelled through the 80's he played his part in the local punk bands Vice Squad and Sweet Revenge, this confidence (and some might say arrogance) in his own ability reached a high in 1988 after he raised enough money through commissions, friends and financial institution to hire Ashton Court Mansion for a truly spectacular exhibition of some of his largest works of the time. Over 1,000 visitors attended Andrews exhibition of self belief, times ahead were looking great for this intriguing character of an artist.
Andrew can't really put a precise time on when things began to change for him. He had started to become absorbed in his work, true addiction to alcohol and drugs had given him a perspective which became a daily trigger point for his drug taking. Unable to break the cycle and pressure from his circle of 'friends' instigated a move from his once beloved home town to the streets of Athens and the beaches of Greece. Although the dark times continued abroad if it wasn't for this move Andrew would certainly not be here today. His career as an artist continued on these beaches, selling to locals and tourists alike from his make shift sea fronted gallery. Andrew's skill as a set painter had taken him from his non traditional mural painting in the 80's on the streets of Bristol to the suburbs of Greece decorated with his interpretation of the world.
Family ties returned Andrew to Bristol around five years ago, with the support of his partner, Andrew continues to build a loyal following of collectors of his beautiful work. Watch this space for BIG things to come!